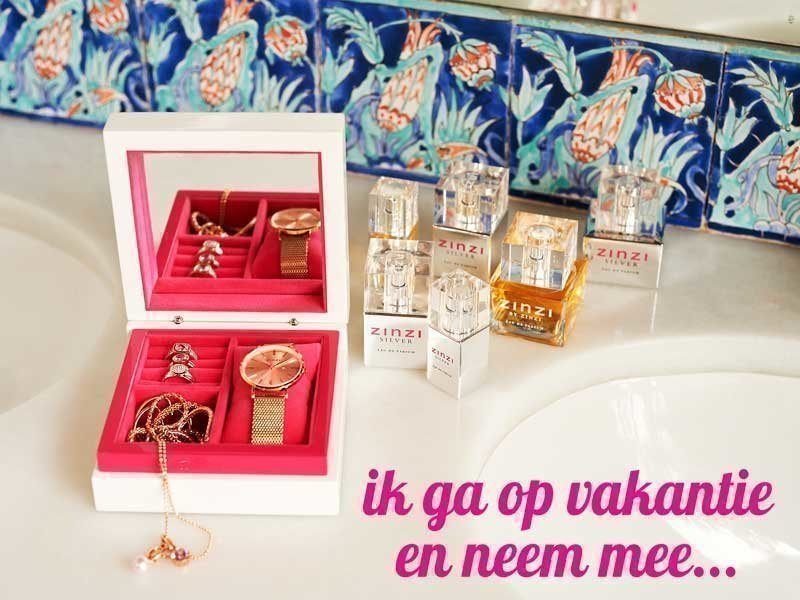 Het vakantieseizoen begint weer aan te breken en je kunt niet vroeg genoeg beginnen met je vakantie voorbereiden. Want je herkent het vast wel... Heb je de hele dag aan het strand gelegen op dat zonovergoten eiland, zojuist het zeewater van je afgespoeld en nu nog maar 5 minuten om je klaar te maken. Dus nog even snel die mooie sieraden uitzoeken... maar die ene ketting die je in gedachten had zit helemaal in de knoop! Overkomt dit jou ook te vaak? Lees dan snel verder, want wij hebben niet één maar meerdere oplossingen voor je!
7 lifehacks om jouw sieraden gemakkelijk mee op vakantie te nemen!

1. Zinzi's Jewelbox! Deze sieradenbox is gemakkelijk mee te nemen op reis én hiermee heb je zelfs op vakantie een fijn overzicht van je collectie. En het staat nog leuk ook!
2. Zitten jouw kettingen en armbanden ook altijd in de knoop? Hier is een hele simpele oplossing voor... Wat je nodig hebt is een rietje en een schaar. Rijg je ketting door het rietje en sluit hem.
3. Voor armbanden knip je het rietje in een kleiner stuk (afhankelijk van de lengte van de armband) en sluit je de armband. Nu raken ze nooit meer met elkaar in de knoop.
4. Behalve je oorsieraden aan elkaar te bevestigen kun je ze ook aan een knoop hangen of klikken. Zo heb je de set bij elkaar en is het makkelijker te vinden in je (toilet)tas.
5. Zinzi's horloges zijn verkrijgbaar met een leren band of een meshband. Beiden kun je los in je tas doen, maar je wilt ze het liefst zo goed mogelijk bewaren. Wat je daarvoor nodig hebt is een washandje. Rol de washand op en wikkel hier je horloge omheen, zoals hij ook om je pols zou zitten.
6. Of je nu slechts één hele bijzondere ring draagt, graag elke dag een andere ring draagt of om elke vinger een stuk zilver hebt zitten... je raakt ze niet graag kwijt! Bewaar je ringen dan in een pillendoosje/medicijndoosje.
7. Tot slot een tip met iets wat je zeer waarschijnlijk wel in huis hebt! Huishoudfolie houdt niet alleen je eten goed, maar ook je sieraden(set). En het houdt ze nog uit elkaar ook. Rol hem uit en leg je sieraden(set) erop. Vouw het vel en leg deze bovenop je sieraden en druk goed aan. Zo heeft hij als het ware vacuum gezogen en zullen je sieraden niet door elkaar gaan. Rol vervolgens op.
Nu je weet hoe je jouw sieraden en horloges gemakkelijk mee kunt nemen én gebruiken op vakantie is het tijd om de nieuwe collectie te shoppen, zodat jij er helemaal als nieuw uitziet!